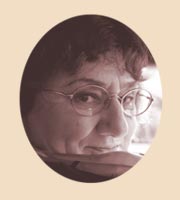 Irina Chelyapov was born in Moscow, Russia. She displayed exceptional artistic talent at a very young age. At the age of 10, she entered one of the oldest art schools in Moscow, where her teachers were Michael Roginsky, one of the first pop artists of Russian Underground, and Moisey Khazanov, prominent post-impressionist. Irina continued her art education at the Strogonov Academy of Art, the oldest and one of the best art schools in Russia, where she earned her Masters Degree in fine art and design. Irina was part of Moscow Underground art movement, which included such names as Misha Bruskin, Alexander Melamid, Vitaly Komar, Anatoly Zverev among many others.

In Russia Irina was a successful graphic designer at the famous Studio of Graphic Design for the Art Union of the former U.S.S.R. She created hundreds of logos, posters, letterheads, labels and ads for a large variety of businesses and enterprises. Her paintings and graphic design work were shown at the Biennale International Art Exposition in the Czech Republic, and many other art shows in Russia.
Irina Chelyapov came to the United States in 1989. Here, she began to work with small decorative pieces made for the Pacific Design Center and several Beverly Hills boutiques. Her clients included Elizabeth Taylor, Matt Groening, Candace Bergen, Diane Warren and Priscilla Presley. Irina realized that her art had an amazing decorative quality.

Today, Irina Chelyapov is one of the most popular muralists in the Great Los Angeles Area. She paints murals in private houses, businesses, children's centers and clinics. As the mother of three children, she especially loves painting nurseries and kids' rooms. She has painted over 100 of them.
Irina discovered the beauty of Los Angeles while driving around the city on the way to paint her beautiful murals. Highly influenced by artists like Hopper, Warhol, Lichtenstein, and Diebenkorn, Irina wants to display the culture of Los Angeles with colorful symbols. She seeks out the humanitarian, religious and historical soul of the city while paying attention to its diversity. Irina is constantly looking to find the city amidst the Los Angeles urban sprawl.
Irina also puts on display figurative art pieces, landscapes and portraits. Her recent etchings combine romanticism and symbolism.
Irina Chelyapov's solo art show, Talk to me LA, is currently on display at the Modern Art Gallery. The Modern Art Gallery is located at 3240 Wilshire Blvd., Suite 200. The exhibit runs from April 14 to April 28. The opening reception is on Saturday April 14 at 6:30 PM. The Modern Art Gallery is open Monday through Saturday 12 to 6 PM.